Film 16 mm, double projection avec projecteurs 16mm, Muet, en boucle.
Une installation en diptyque de deux films 16 mm projetés. D'une part Rassembler, une femme s'empresse de fourrer des vêtements dans un sac, vide un placard. Plans du le visage de la femme, et de ses mains en action. De l'autre Fouiller.  Concentrés, trois hommes vident le contenu d'une fourgonnette et éparpillent au sol les vieux vêtements et les objets à mettre au rebut. La camera est resserrée sur le haut de leurs corps vus depuis l'intérieur du véhicule. La précipitation de leurs gestes et le son des projecteurs 16mm inscrivent un sentiment d'urgence.
A diptych installation of two 16 mm films projected. On the one hand, Rassembler, a woman hastens to stuff clothes in a bag, empties a closet. Shots of the woman's face, and her hands in action. From the other Search.  Concentrated, three men empty the contents of a van and scatter the old clothes and objects on the ground. The camera is tightened on the top of their bodies seen from inside the vehicle. The haste of their gestures and the sound of the 16mm projectors indicate a sense of urgency.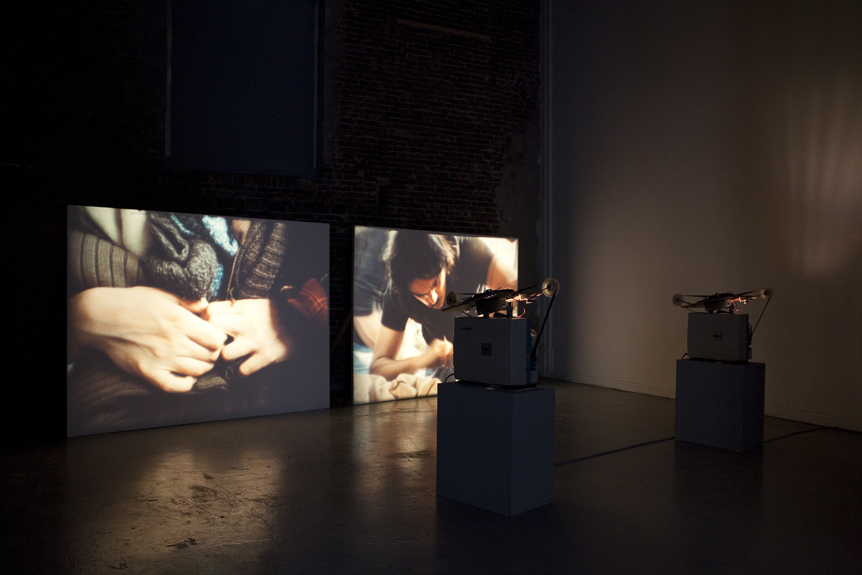 Vue d'installation, OpenStudios de le Rijksakademie Van Beeldende Kunsten à Amsterdam (2011)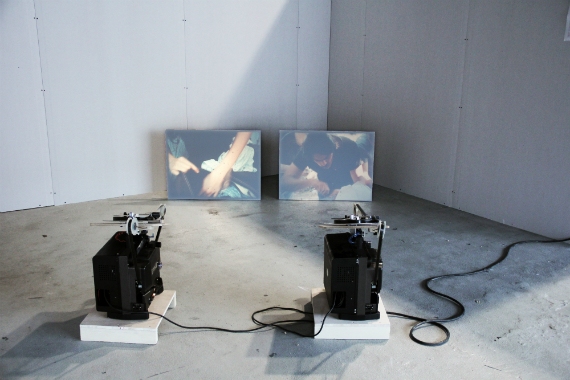 Vue d'installation à Art-o-Rama, Marseille. Solo Show avec la Galerie Jeanine Hofland Contemporary Art (2012)